Hallo,
my name is Reinhard, and I am living in Maintal. Maintal is a town with about 40,000 inhabitants, situated between the large cities Frankfurt on Main and Hanau. The most Hams know me as René. At school all my friends called me René since our first lesson of French. This short name is better in CW and also quicker to spell. Still when I was at school, I was pretty interested in Amateur Radio, and though I snatched every book about it.
An old shortwave receiver, a self-made Beat Frequency Oscillator and a simple long wire were my first equipments to listen to the signals in the air.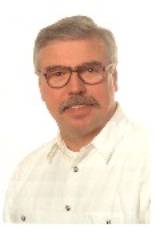 In 1974 I have gotten my Amateur Radio License with the call DF1FY. It was great to talk directly with other people at any other places on earth, and so it is today, too.
My first Station was a TRIO KENWOOD Transceiver, the TR 7200 G for the 2 Meter Band with 22 Cannels with frequency modulation. To send on the Shortwave Frequencies, I had to go to my father-in-law's station or to our Club station, but in the end of the year 1974 I had also an own Shortwave Station, the Trio Kenwood Transceiver TS 515.